7 Persuasive Techniques That Will Captivate Any Audience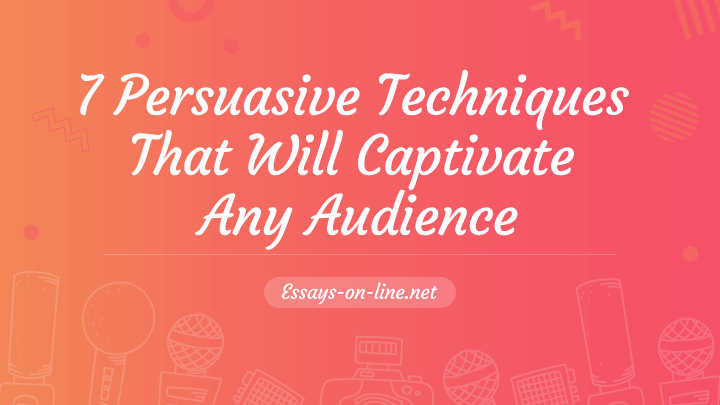 Introduction
In today's fast-paced world, capturing and holding the attention of your audience is crucial for effective communication. Whether you are a marketer, a salesperson, or a public speaker, understanding and utilizing persuasive techniques can significantly enhance your ability to engage and convince others. In this article, we will explore seven powerful persuasive techniques that will captivate any audience. By incorporating these strategies into your communication approach, you can create a lasting impact and achieve your desired outcomes.
Table of Contents
Understanding the Power of Storytelling

Establishing Credibility and Authority

Leveraging Social Proof

Creating Emotional Appeal

Using the Art of Persuasive Language

Applying the Principle of Reciprocity

Incorporating the Fear of Missing Out (FOMO)

1. Understanding the Power of Storytelling

Human beings are naturally drawn to stories. By weaving narratives into your communication, you can engage your audience on an emotional level and make your message more relatable. Craft compelling stories that connect with your audience's experiences, aspirations, or challenges. By presenting real-life scenarios and illustrating the benefits or consequences of certain actions, you can effectively influence their beliefs and decisions.

2. Establishing Credibility and Authority

To persuade others, it's crucial to establish yourself as a credible and authoritative figure in your field. Provide evidence of your expertise, such as relevant credentials, achievements, or testimonials from satisfied customers. By positioning yourself as a trusted source of information, your audience will be more inclined to listen to and accept your message.

Read also: The Art of Persuasive Speech: Establishing Credibility

3. Leveraging Social Proof

People tend to follow the crowd, especially when they are unsure of their choices. Utilize social proof by highlighting the experiences and endorsements of others who have benefited from your product, service, or idea. Testimonials, case studies, and statistics can all serve as powerful forms of social proof, influencing your audience to align with the majority and embrace your perspective.

4. Creating Emotional Appeal

Emotions play a significant role in decision-making. To captivate your audience, tap into their emotions and appeal to their desires, aspirations, or fears. Craft messages that evoke joy, excitement, or empathy. Use vivid imagery and relatable examples to connect with their emotions on a deep level. When people feel emotionally connected to your message, they are more likely to be persuaded by it.

5. Using the Art of Persuasive Language

Words have immense power. Choose your language carefully to convey your message persuasively. Utilize positive and empowering words that inspire action. Use strong and assertive statements to instill confidence in your audience. Employ rhetorical devices like metaphors, similes, and analogies to paint a vivid picture in their minds. The right choice of words can create a lasting impact and leave a powerful impression.

6. Applying the Principle of Reciprocity

Reciprocity is a fundamental principle of human interaction. When you give something of value to others, they feel obliged to reciprocate. Apply this principle by offering valuable insights, resources, or experiences to your audience. By providing genuine value upfront, you build trust and goodwill, increasing the likelihood of them accepting your message and taking the desired action.

7. Incorporating the Fear of Missing Out (FOMO)

The fear of missing out (FOMO) is a powerful motivator. Humans have an innate desire to be a part of something greater. By incorporating elements of exclusivity, scarcity, or time sensitivity into your message, you can leverage the fear of missing out. Highlight limited-time offers, exclusive access, or unique benefits that are available only to a select few. This creates a sense of urgency and compels your audience to take immediate action.

Conclusion

In conclusion, mastering the art of persuasion is essential for captivating any audience. By employing these seven persuasive techniques—storytelling, establishing credibility, leveraging social proof, creating emotional appeal, using persuasive language, applying reciprocity, and incorporating the fear of missing out—you can significantly enhance your ability to engage, convince, and inspire others. Remember to adapt these techniques to suit your specific audience and context, ensuring that your messages are tailored, impactful, and memorable.

FAQs

Can I use these persuasive techniques in written content?


Absolutely! These persuasive techniques can be applied not only in verbal communication but also in written content such as articles, sales copies, and marketing materials. The principles remain the same, focusing on engaging the reader and influencing their thoughts and actions.

How long does it take to become proficient in persuasive techniques?
The time required to become proficient in persuasive techniques may vary from person to person. It depends on factors such as your existing communication skills, willingness to practice, and ability to adapt to different situations. Consistent effort, learning from feedback, and observing successful communicators can expedite the learning process.
Are there any ethical considerations when using persuasive techniques?
Yes, ethical considerations are crucial when using persuasive techniques. Always ensure that your intentions are genuine, and you are providing accurate information to your audience. Avoid manipulative tactics and focus on building trust and fostering mutually beneficial relationships.
Can I combine multiple persuasive techniques in a single communication?
Absolutely! Combining multiple persuasive techniques can amplify their impact. For example, you can start with a compelling story, support it with credible evidence, and evoke emotional appeal to drive your message home. Experiment with different combinations to find what works best for your audience and objectives.
Is it necessary to adjust my persuasive techniques for different audiences?
Yes, adapting your persuasive techniques to different audiences is essential. Each audience may have unique preferences, values, and communication styles. By understanding your audience's demographics, interests, and motivations, you can tailor your messages to resonate with them effectively.