Why Not Travel To Aruba – Speech Example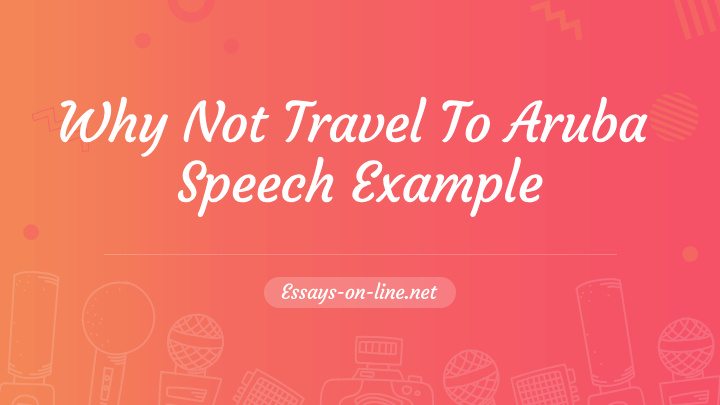 General Purpose: To persuade.
To Persuade Central Idea: To persuade my audience that Aruba is a beautiful island to travel to. Aruba is the perfect paradise that offers perfectly predictable weather and endless vocational opportunities for everyone.
Specific Purpose: The audience should be convinced at the end of my speech on signing up for the group self-sponsored vocational trip to Aruba.
Organizational Pattern: Topical.
Type: Value Claim.
Introduction:
Attention Getter:
Imagine waking up during a perfectly predicted sunny day with a cool breezy feeling on your vacation. Being surrounded by the beautiful rich culture of the Dutch and having plenty of places to dine. You are able to walking down the miles of beaches to explore and a vast ocean filled with aqua warm waters to swim and snorkel. Further, one gets the endless opportunities to explore the exciting experience of sailing on board with a catamaran. Apart from that, there are overnight entertainments and events, and people have a chance to participate in water sports. All these in just one tourist destination site.
Relevance Statement:
Aruba island offers endless opportunities for everyone who wishes to visit this place. Aruba is a vocational Caribbean island located on the coast of South America outside the hurricane belt (Li, Goh, Hung, & Chen, 2018). Whether you are visiting Aruba as an individual or with a group of people, your wildest travel-related dreams will be fulfilled there. Aruba entails the perfect weather, culture, and exciting tourist destinations that match the definition of a mind-blowing vocational trip.
Credibility Statement:
Of all the vocational sites I have visited, Aruba gave me a feeling of satisfaction and desire to visit it again. The island comprises everything I look forward to during a vocational trip. If you are a foodie like I am, Aruba has got you covered. For example, there are plenty of places to dine at, including Texas de Brazil, Madam Jeanett's, and Duschi Bagels (Ridderstaat, 2015). Additionally, Aruba has beautiful beaches, vast ocean, and fantastic weather that is sunny and breezy (Li et al., 2018). The island also has casinos and shows that provide entertainment overnight, and Marriott Resort is the best place to attend. The hotels at Aruba have exciting water sports activities and great beaches (Croes, Rivera, Semrad, & Khalizadeh, 2017). Thus, there is no doubt in choosing Aruba as a vocational site since I am confident that you will be glad you chose it.
Preview of Main Points:
It is a day you will desire to go to Aruba for your next vocational trip. Moreover, there will be no room for searching for another tourist destination site since you will feel the urge of why not travel to Aruba at the end of my speech. I will comprehensively discuss the fantastic weather at Aruba as well as exciting tourist attraction destinations and events available there.
Transition into the Body of the Speech: Let us first begin with perfect weather you will experience at Aruba.
The weather is probably the biggest consideration in deciding a vocational site. The geographical location of Aruba provides a fantastic weather forecast favorable to your dreamed sunny and breezy vacation with no or minimal rainfalls (Klein, 2016). Aruba island is found at the coast of South America, which is outside the hurricane belt. Its location makes it suitable even for September visits when hurricanes are seasoned in the Caribbean. The island is more of a desert since it experiences very little rainfall that averages to 16 inches (Island, 2018). Hence, it is impossible for rainfall to ruin your vacation. More so, Aruba region experiences a daily sunny drenched sky and cooling breezes brought in by the trade winds (Klein, 2016). Simply, Aruba has the perfect weather, which is the biggest asset to an awesome vocational trip.
Transition: The second and most significant reason to travel to Aruba is the exciting tourist attraction destinations and events available there.
Nowadays, there are several exciting tourist attraction destinations and events available at Aruba.
Dining Places
Just like any other tourist destination site, Aruba has its dining places. For example, there is a variety of restaurants to feed at and experience the diverse typical cuisine dishes of Aruba, which includes Italian, Mexican, Seafood, Chinese, Steakhouse, café, and sushi (Croes et al., 2017). During my last visit to Aruba, Texas de Brazil, Madam Jeanett's, and Duschi Bagels made my top three restaurants of places to eat at. The food menu at these restaurants gave my taste buds a memorable feeling owing to the amusing flavors contained in the ingredients of the food I dined. The signature meal was the spicy burritos with minced meat filling served at Texas de Brazil, which gave me a memorable authentic and distinctive flavor. Whether a foodie or not, the meals at these places are worth to try.
Great Beaches and Water Sports
Hotels in Aruba provide beautiful beaches with water sports activities. The beaches at Aruba have fine white sand with no rocks and shells that are annoying at times. The hotels have tranquil beaches (Luddolf, 2015). The water sports available at Aruba include snorkeling, diving, and swimming. The beaches allow you to access the ocean and swim in the warm aqua waters. Additionally, one has the opportunity to participate in shallow and deep diving depending on the preferences. Diving is accessible by boat or either through the beach like the Baby Beach, Palm Beach, and Eagle Beach. Snorkeling activities are available for non-divers at Boca Catalina, Arikok national park, the natural bridge, and ATV tour where you will discover the unexpected nature that exists beneath the sea (Luddolf, 2015). Additionally, individuals get an opportunity to go on catamaran trips. The catamaran trip is best in the sunny and breezy afternoon and entails an open bar with very friendly and attentive staff.
Night Entertainment
Aruba island offers enough entertainment events for the all-nighters. Marriott Resort is indeed the top notch place for an all-nighter. First, the resort has a casino in it that will keep you awake all night long. Additionally, there are bars and lounges where you can listen and dance.
Transition to Conclusion: It is with no doubt that Aruba is a vocational destination that will give you the best experiences in your vocational journey.
In summary, Aruba Island is a tourist destination site located at the coast of South America. It is the perfect vocational destination owing to its fantastic weather. The weather features of the island comprise minimal rainfall and sunny and breezy daily weather conditions. Additionally, the island is outside the hurricane belt; hence, the vacations cannot be interrupted during the hurricane season in the Caribbean. The island has also been graced with fine dining places where individuals can enjoy diverse typical cuisine menus. Besides, the island has great beaches and a vast ocean where people can swim, dive, and snorkel. Catamaran trips are also available at Aruba where there is an open bar on a cruise ship sailing across the ocean. More so, all-nighters have the opportunity to drink and party in major hotels. Casinos are also present in hotels such as Marriott Resort where one can spend their night or day having fun on the machines.